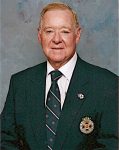 Captain Greg Streeter was born and raised in Milwaukee.  He attended Marquette University for one year and then obtained an appointment to the U.S. Naval Academy.  He graduated and received his commission in 1958.  His Sea Assignments were primarily in Destroyers.  He commanded two Destroyers and Three Destroyer Squadrons including a NATO Squadron.  His final sea assignment was as Chief of Staff for an Aircraft Carrier Battle Group and participated in the bombing of Libya in 1986.  He retired from the Navy in 1986.
Following his retirement from the Navy, Captain Streeter worked in the Washington D.C. area for 15 years marketing IT Systems and Services to the Federal Government.  He retired in 2000.
Greg and his wife Anna moved to Jacksonville permanently in 1993.  They built a home in Queens Harbor and lived there until they moved to Cypress Village in 2013.  While in Queens Harbor Greg was a member of the POA Board for 2 years.  Since moving to Cypress Village Greg has been directing the Life Long Learning Program and serves as a member of the Resident's Council.
Captain Streeter is an active member of the Navy League of the U.S.  He is a Past Commander General of the Naval Order of the United States and past President of the Naval Order Foundation.  He was the National Chairman for the Naval Order of the United States' Navy D-Day Monument Project which placed a Monument to the United States Navy on Utah Beach in Normandy France.
© BelleAire Press