The Silhouette's Secret: kept for 100 years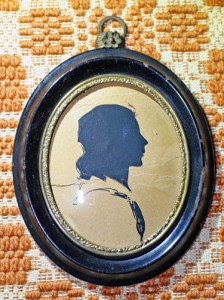 The small, oval frame with a glass cover over a yellowing silhouette had hung on Cottrell and Raymond family walls for almost a century. The silhouette was created on September 12, 1916. The subject for the skilled artist was Marie Theresa Cottrell, 11 years old and the daughter of Marie Flatvad Cottrell and Charles Middleton Cottrell of Newport, Rhode Island.
The silhouette was actually a montage created by the artist that included a paper cut out showing the young girl's side profile facing right, with pen and ink highlights to suggest a stray hair and the shape of her dress.
The reverse side of the silhouette and its frame noted the work was by "Julia Br…"  The remainder of the name had been snipped off when the cardboard oval had been inserted into the frame.
Author Faith Connors (Love Midgie, Flavors of the Fjords) was examining the silhouette of her mother as she continued the process of chronicling the life and times of members of her family and that of her husband, Tracy. The reader will need to know that her mother, Marie Theresa Cottrell, as a girl, was considered by her friends to be a tomboy. In fact, her energy and enthusiasm gave her the nickname very early on as "Indian Pete." Later, the nickname was shortened to "Petie." And that was what she was called by her immediate family. However, not everyone agreed with her nickname, as you will see.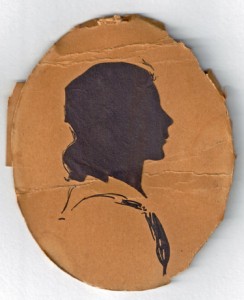 As Connors explained …
"In writing Petie's story for her grandchildren and great grandchildren, I came across a few of her special belongings that have survived all these years. One small black oval frame holds a silhouette made of Petie at age eleven. Written on the cardboard backing of the silhouette are these words:
Julia B
Theresa Cottrell
September 12, 1916
Even a tiny silhouette created nearly 100 years ago has a story to tell.
Julia B's full name doesn't appear, however I do recall that her last name is Brown. Just to be certain, I did a bit of research on Ancestry. There, I learned that Julia P. Brown is the daughter of Lewis and Julia E. Brown.
According to the 1900 U. S. Federal Census,  Julia is 14 years old and lives with her parents at 13 Francis Street, next to the future home of Robert Cottrell at # 11. [Robert Cottrell, Newport's Mayor at the turn of the century) was the brother of Charles Cottrell, Petie's father]. Born in 1887, Julia attends school in Newport .
1910, Julia is 23 years old and an art student. My memory seems to have served me correctly: Julia did create the silhouette for Theresa.
By 1915, Julia Brown is 29 years old, living at 21 Gibbs Avenue with her parents. According to the Rhode Island Census, Julia is an artist, working from home. Her mother is a Cake Baker working for the Women's Exchange while her father, age 72, who previously worked in Coal & Wood, is listed as not working.
Further research concerning Julia Brown and her life as an artist in Newport reveals nothing. Perhaps all that remains of Julia's work is behind glass in a small oval frame: a silhouette of eleven year old Theresa Cottrell.
The intricate silhouette of Theresa Cottrell reveals something else that we perhaps already know: Marie Theresa Cottrell was named for her mother who was called Marie. For that reason, her daughter was called Theresa, pronounced "Tuh-ressa." In and around Newport, she was known as Theresa at school, church, and to her extended Cottrell family of aunts, uncles and cousins. At home with her immediate family, she was always called Petie, Pete or even Peter, but she was never called Theresa.
In later years, living in Stamford, she was called Marie, perhaps because she wasn't fond of the name Theresa. Close family members and her sisters always called her by one of her Petie nicknames.
The story continued with a cautious and careful removal of the precious silhouette from its frame where it had remained since 1916. After a trip through the scanner, the image was carefully turned over to capture the writing on the reverse side. In that process, what was originally thought to be a reinforcing paper for the silhouette, fell away and a small horizontal scrap of paper dislodged itself from between the two pieces of paper. In almost microscopic handwriting, the paper said "Julia Brown."
The silhouette artist was now confirmed as Julia P. Brown. The silhouette had finally revealed its secret and a fine artist could once more be recognized for her work.
Interestingly, Connors could find only one other mention besides the census records for Julia Brown — a newspaper article about the autumn invitational tennis tournament in 1914 at the Longwood Cricket Club in Boston. Brown was "beaten by Miss Eleanora Sears…" but together with Mollie Hamill, the pair were victors in the women's doubles.
Connors plans to continue revealing Petie's secrets in future postings.
© Copyright 2022 BelleAire Press, LLC