Transforming twisted fibers – yarn – into useful, expressive forms and functions is among the earliest skills developed by the human race.
Knitting, as it is known in English, is a uniquely satisfying skill, typically shared between mother (or grandmother), and daughter.
Those fortunate enough to be gifted with knitting skills are able to transform yarns into any one of a wide range of clothing, household items, and gifts.  Every one of their creations is lovingly prepared and invested with expressive pride and commitment.
Spirit Knits© by BelleAirePress is a new family of original knitting designs created to capture the essential character, quality, energy, and temperament of subjects and activities we care deeply about. In short, to capture and reflect in its original designs, the character and essence of these topics, often reflecting gentle humor and fun.
Introducing the first Spirit Knits© family member…
Beach Spirit Knits by BelleAire Press include original knit designs that help you have a beach expeerience without actually leaving your home.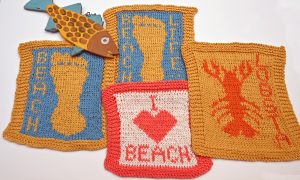 Caribbean color palettes that glow with the vibrant blues, oranges, and greens of southern seas. Original designs that reflect the laidback atmosphere, fiesty spirit — and witty humor — of life and relaxation near a shore.
Create your own waves lapping or crashing. Seagulls scolding. Wind blowing the warm, damp musk of salt water and sand dunes into your innermost reaches. Relaxing, peaceful, calming.
Choose from one or more of the growing selection of beach life designs from Beach Spirit Knits by BelleAire Press.
---
This knitted design captures the allure of surf and sand, and summers spent enjoying the seashore.
The complete chart features the I (heart) Beach motif done in the center in stockinette stitch.  A garter stitch border surrounds the design on four sides.
---
An original Lobster-focused Beach Spirit Knit © design by BelleAire Press.  Designer Faith Connors explains, "This unique Brag Rag © design harkens back to summers spent on the Rhode Island shore.  'LOBSTA' is what my ears took in many years ago when I listened to neighbors talking about heading to the market in Wickford across the Jamestown bridge to get lobster for supper."
The complete chart features a lobster motif done in the center in stockinette stitch. A garter stitch border surrounds the lobster design on four sides.
---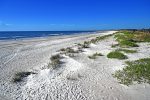 Splashy walks on a warm sandy beach dodging gently curling foamy racers can leave momentary proof of our progress through life and toward our futures.

This Beach Footprint in Wet Sand original design captures that moment when your weight has pushed the sand aside, however briefly, to record your passage down a calming beach.
---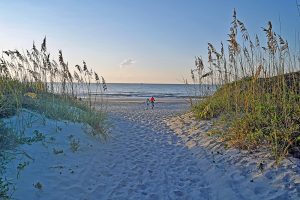 "We're going to the Beach…" As kids (of all ages), those words held limitless promise. First, the smell of the humid salt air. Then the muted boom of the breaking waves, followed by the sizzling sound of gazillions of foaming bubbles breaking behind the receding roller. Finally, the soft, crunchy sand beneath your bare feet.

This Beach Spirit Knit© original knit design captures all the meanings and associations you have with visits to or life at the beach. With this BEACH LIFE knit design, you can bring the Beach Spirit to you…where ever you are.
---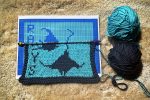 Manta rays are graceful, bat-shaped members of the super order of cartilaginous fishes commonly known as rays. Rays are the largest group of cartilaginous fishes that are distinguished by flattened bodies, enlarged pectoral fins (wings) that are fused to the head, and gill slits placed on their ventral surfaces.
This original BelleAire Press Brag Rag © design was based on a watercolor by William Tracy McCarns, a high school student in Chesterfield, Virginia.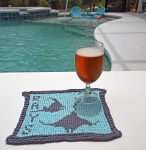 ---
On his way…Straight from the

inter-tidal zone…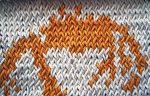 Next week the First? Haunting? Original knit design featuring "Clawed," the Ghost Crab from Beach Spirit Knits.
This usually secretive denizen of the inter-tidal zone will make his first public appearance as an original knit design in less than a week.
So, grab your Ouija boards, crystal ball, and your well-traveled beach bag, and be there to welcome Clawed when he makes himself visible as a Beach Spirits Knit© design.
---
Feel free to send your photos (cell phone photos are fine) of completed Spirit Knits© projects. We will be happy to consider them for posting on our web pages, along with your attributed comments.
Why not suggest it to our design team?  We'd love to hear from you and will do our best to respond promptly with designs specifically for your suggestion.
As a BP Spirit Knits© Contributing Author you…
Are prominently recognized as the designer/author on each of your authored products;
Receive Contributing Author profiles and links both within the specific products you author and on the BelleAire Press website; and,
Accrue up to 50% royalties on each of the individual products you author.
---
Coming soon for football season…

Team Spirit Knits©
All of us share feelings of pride and loyalty to our favorite teams competing in a variety of sports. We share feelings of camaraderie with other members of that group who also follow the teams fortunes and take great pride when they succeed, and share disappointment when victory must be for another day.
Team Spirit Knits© by BelleAire Press are original knit designs created to capture the essential energy, humor, and enthusiasm shared by millions for their sports teams.
The "spirit" components of this ever-expanding line of "easy-to-knit" products consists of  creating original designs that include symbols (e.g., football) and/or words or terms that are associated with a team or a sport. The designs are intended to allow knitters to choose their favorite team colors.
---
Other e-publication works of history or historic fiction at BelleAire Press…
Just Published
The Great Southern Circus, 2019 Digital Edition, is an engrossing e-book of historic fiction by Nick West, that incorporates, expands, and updates the previous work, and its sequel, The Long Road Home: The Death and Birth of America.
Great Southern Circus is set in the past and explores the manner, social conditions, major events, and other history of the exciting, nation future deciding period depicted. The author explores notable historical figures to allow readers to better understand how these individuals responded to the events and changes taking place in their environments.
The Great Southern Circus is based on true historical events, set in historical context and time. Although this story deals with real people and actual events, this is a work of historical fiction. The events chronicled here did happen, and the characters are all based on real people, but the author extrapolates from factual information derived from multiple sources to bring his characters to life.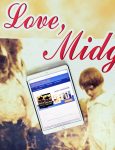 True story adventures of a young Florida girl who proves her indomitable spirit after she is forced to move from idyllic Summerfield, Florida (near Ocala), to Jacksonville's historical Springfield neighborhood so that her mother, Emma, can receive better medical care for tuberculosis.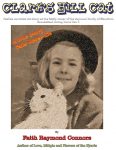 Based on actual events, Clark's Hill Cat is a humorous, tongue-in-cheek "as told to" story of Pee Wee, the Clark's Hill Cat who narrates his story as the cool, feisty, sometimes snarky owner of the Raymond Family of Stamford, Connecticut during WW II.

Baited Trap, The Ambush of Mission 1890 is the true, harrowing story of helicopter rescue Mission 1890, one of the most heroic—and costly—air rescues of the Korean War.
Baited Trap, the ambush of Mission 1890, was written as a tribute to 1st Lt. Archie Connors and the other incredibly brave aviators who participated in the Korean War's deadliest helicopter air rescue mission.
Flavors of the Fjords by Faith Connors, Dr. Tracy Connors, Tove Johansen Fladvad, and Bjørn Johansen Fladvad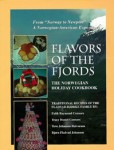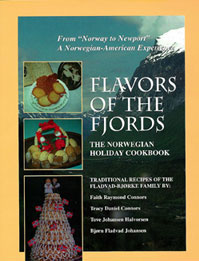 "Flavors of the Fjords" is a combination of cookbook and family history assembled by the Fladvad-Bjorke family. The book may be the most detailed history of a Norwegian-American family yet published…"  Norwegian Embassy, Washington, D. C.
© Copyright 2019 BelleAire Press.  All rights reserved.
Spirit Knits, Team Spirit Knits, Beach Spirit Knits, and Brag Rag are protected by U.S. Trademark and Copyright legislation.