The Breakfast Room
by Faith R. Connors
What is the story about breakfast rooms?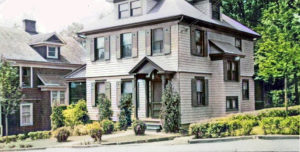 Years ago, many houses were built to include a small room off the kitchen known as the breakfast room.  Our house in Stamford, CT had just such a room. Small as it was, it had two doorways: one leading from the kitchen and one leading into the dining room. Beneath a small window that looked out over the backyard, there was room for a blue wooden table and four chairs.
Since our breakfast room evolved into a home office during my childhood, my memories of meals served there are few. One memory survives: Mother felt it was critical for me to learn to use a finger bowl in a proper and dignified manner. One afternoon, we sat next to each other at the table, I to her left, while she showed me how to use a finger bowl. I dipped my fingertips into the finger bowl that was filled with water. "Only the tips of your fingers are to be dipped in the finger bowl," she said. "Dry them on the napkin."
There was a white, linen napkin to be used for drying my fingertips. Learning to use a finger bowl was important to Mother because she was sure I'd be a guest at dinner parties where finger bowls would be part of the table setting. So far, I have not encountered a finger bowl at any dinner party, however I am ready. It could still happen because later this month, I'll be 73 years old.
Does anyone even have a finger bowl among their dining room china and glassware? I have two of them, and I have never used either of them, at least never for the purpose for which they were intended. Mother grew up in Newport, Rhode Island and given the formalities of the time, likely used finger bowls at home and at afternoon teas.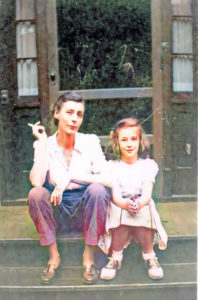 Soon after the lesson in utilizing a finger bowl, Mother went to the dentist to have her teeth cleaned or a cavity filled. While Mother leaned back in the chair with her mouth full of dental gear, Dr. Soloff asked her a question. "Pete, do you want to make a lot of money?" Mother groaned an answer in the affirmative, "Uh huh." Of course, Mother wanted to make a lot of money, especially if it only involved giving up the breakfast room.
Over the next few days, the breakfast room was disassembled: the table was moved to the middle of the kitchen along with the chairs, only a few feet away from the former breakfast room.
A tall black desk now stood against the wall in the breakfast room office and a telephone was installed. The breakfast room was now a home office, occupied by White Star Diaper Service, a business in which Dr. Noah Soloff had invested. Mother and Pop had known Dr. Soloff for many years. In fact, Pop had met Nate Soloff when he was a student at Lafayette College in Easton, Pennsylvania. Nate Soloff had played football for Lafayette and had gotten his nose broken during a game. As a child in the dental chair I found it very hard to picture Dr. Soloff, in my opinion portly and old, not only playing a game of football, but also having a broken nose.
© Copyright 2022 BelleAire Press, LLC
If you are "of a certain age," these tales will evoke reminiscences of your own growing-up years. For those a bit younger, these windows into the past will validate the childhood memories your parents or grandparents may have shared over the years.