Cod fish cakes and Swiss Chard are not so fondly remembered…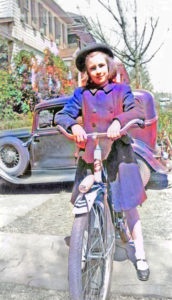 by Faith R. Connors, author of Love, Midgie
Hey, welcome to Same Supper Tuesday. I see you up there at the top of the honeysuckle wall. Come on down. Be careful, though. It is a challenge to get your feet planted firmly on the rocks between the vines. At least, honeysuckle blossoms will tickle your nose and emit divine smells on your way down.
Great! You are safely on the ground exactly where we will start to work on Same Supper Tuesday, right in the middle of our Victory Garden. Grab one of the smaller bushel baskets, will you. I'll get one, too. Have you ever picked Swiss chard?
No? It's new to us, too. It's something the government recommended because it's available. No, it's not Spinach. Spinach isn't as readily available for families growing Victory Gardens. It's new on the supper plate, new on our Same Supper Tuesday menu, for sure.
You are right. It does look like Spinach. All those curly dark green leaves make me think that maybe Swiss chard and Spinach are cousins. If you like Spinach, then you'll probably like Swiss chard, too. We need to fill both baskets: one for us and one to put on Pat's back porch.
See, our neighbor, Pat has a flat, sunny yard while much of ours is shaded by mature elm trees. Pat grows corn, while Pop grows Swiss chard, so the two families share the harvest.  We need to pick some of Pat's corn, maybe six or eight ears. That will be enough.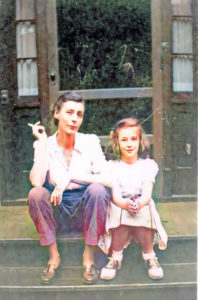 Let's get back to our garden now. The best place to rinse the Swiss chard is under the garden hose. We'll shuck the corn is right over there by the compost pile.
Mother will cook the Swiss chard in her pressure cooker, surprisingly fast. The cats are scared silly of the pressure cooker and tear out of the kitchen as soon as the cooker starts hissing. Pop will cut the kernels from the ears of corn and simmer them in milk, with a dash of salt and pepper for flavor, with some butter, if we have any.
The "Same" part of Same Supper Tuesday is Cod Fish Cakes. Every Tuesday, Mother fries fish cakes, same as tonight. The Victory Garden variable is what's ripe and ready to pick in our garden and Pat's garden. There are all kinds of vegetables in both gardens, fresh for the picking, throughout the summer.
All of us are fairly sick of seeing Cod Fish Cakes on our supper plates Tuesday after Tuesday all year long. The fish cakes are pre made, ready to pop out of the can and into hot fat for frying. Nobody in the family likes them.
We ate canned cod fish cakes for months on end because Mother said, "They are thrifty. So tasty! No leftovers!"
Finally, Pop decides what is wrong with them. "There isn't much cod in them. I bet the fish cakes are eighty percent mashed potato."
Mother agrees. "Our own potatoes grow right outside our backdoor. We've got plenty of onions, too. Let's make our own mashed potatoes and only buy the canned cod for making fish cakes."
So, step into our Clark's Hill kitchen and see what happens. That's Pop at the drain board mashing potatoes. Here's Mother opening the can of cod fish and using a fork to separate the fillets of fish.
Take a seat at the enamel topped kitchen table, after washing your hands, of course. Grab the big wooden spoon. In the large yellow earthenware bowl, take a turn mixing the mashed potato with the fish flakes. Here's an egg to crack into the bowl. Keep stirring. Pop has chopped onion ready to be stirred in, then parsley and chives from the Victory Garden are ready to sprinkle in next along with salt and pepper.
Because Grandmother is from Norway, we also need to add a pinch of nutmeg. The perfect amount is whatever you pick up between your thumb and forefinger, straight out of the can of nutmeg. That's what they do in Norway where fish cakes are very popular.
The fat is sizzling in the cast iron frying pan, ready for the cod fish cakes. All we need to do is make patties on a sheet of waxed paper. Take a handful of fish cake mixture and round it into a ball, and then flatten it a bit for rolling in bread crumbs. Not too flat, though, because we all like our fishcakes a little on the tall side.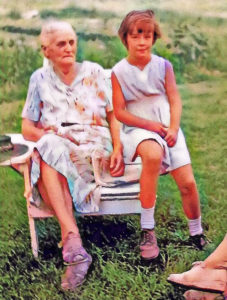 Supper is ready to go on our plates. Take a fork, napkin and your plate of food and we'll sit outside on deck chairs by the back steps. Oh, the fish cakes are super good, and smell like the ocean. Glad you are enjoying supper on the grass with us. I think the Swiss chard is just right along with creamed corn. Very tasty, don't you think?
Dessert is ready. It has a funny name: Eggless Chocolate Cake. Because we can't always depend on having eggs in the refrigerator, this cake is our war time favorite.
Listen. Did you hear that? You think it's a siren, an air raid siren? You are right. We weren't expecting a surprise practice air raid drill tonight. Hey, after we take our plates back to the kitchen, how about helping me pull all the black window shades down to the sills.
Wow! The sirens are really wailing tonight. I don't think we've ever heard them quite this loud before.
Oh, don't mind the cats. They get pretty excited when air raid sirens blast over us and interrupt their quiet lives. Both of them race all over the house looking for safe hiding places. Under a bed is a likely spot or in the linen closet behind a pile of towels is where they feel most secure.
Good, now that all the window shades are pulled down, we are prepared for the blackout. Let's head to the kitchen where Mother is wrapping some slices of cake in waxed paper. You can't stay any longer, so the cake is ready for you to take home and share with your family. Oh, and Mom has a hastily scribbled recipe on a 3×5 card for you. I know you like to cook, so this may be just the recipe for you to stir together.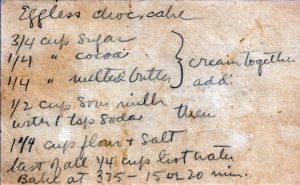 It's twilight now. It's time for you to climb up the honeysuckle wall. I'll run with you through the Victory Garden and hand the wrapped cake up to you.
I hope you liked sharing Same Supper Tuesday with us. Sorry it had to end with a wailing siren. Come on down and have supper with us again soon. You might like Meatless Soybean Sunday or Baked Spam Saturday.
As Cousin Tove says, "There's nothing like en fiskerkake when you are hungry and need something healthy in a hurry."
© Copyright 2022 BelleAire Press
Other works by Faith Connors…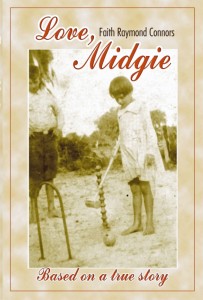 "Midgie is a refreshing, true story of a young Florida girl with indomitable spirit who meets each challenge as a new adventure. From the first page the reader is caught up in Midgie's world–a combination of family and friends, as well as a haunted house. The author captures her unshakable spirit–'Midgie's magic'–as she moves from one adventure to another. Her postcards in each chapter help the reader visualize the fascinating story of a bright, energetic, young girl. The reader will laugh and cry with this remarkable, young girl and her brother, Henry. The book is a 'winner."'
Dr. Frances Bartlett Kinne
Chancellor Emeritus
Jacksonville University
Flavors of the Fjords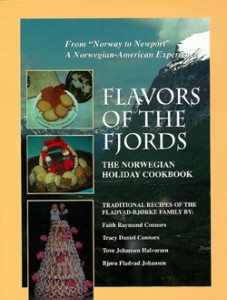 History has never tasted so good! ™
"The book may be the most detailed history of a Norwegian-American family yet published. Flavors of the Fjords exemplifies what dedicated compilers and relatives can do to preserve knowledge of their family's complex past. This one family's legacy should inspire others as well."
– Royal Norwegian Embassy
Flavors of the Fjords has the largest number of traditional Norwegian holiday recipes–cakes, cookies, breads–ever put together in one book! Interwoven with fascinating bits of Norwegian social history, including explanations of Norwegian Holiday traditions and customs, many of them kept alive to this day by millions of Norwegian-American families.
Authentic Fladvad and Bjørke family recipes for over 125 holiday cookies, cakes, breads, toppings, and puddings are interwoven with fascinating bits of Norwegian and Newport, Rhode Island social history. These authentic Norwegian recipes reflect the holiday cooking, uniquely Norwegian, brought to America by nearly one million Norwegian immigrants.
Most Recent Postings…