Pee Wee the Clark's Hill Cat relates WWII experiences in Stamford, CT.
What did your cat do during WWII?
Pee Wee might not have been the "Greatest" of his generation, but he patrolled the Clark's Hill neighborhood of Stamford, CT, ensuring the Blackouts were, well, dark, and he kept an eye on a German family who lived next door.
The BelleAire Press "Cat-itorial Review Board" recently granted its "CRB Seal of Excellence" to a charming, new work of "feline historic fiction" by Faith R. Connors, author of Flavors of the Fjords and Love, Midgie.
Pee Wee, the Clark's Hill Cat narrates his story as the feisty owner of the Raymond Family of Stamford, Connecticut during World War II.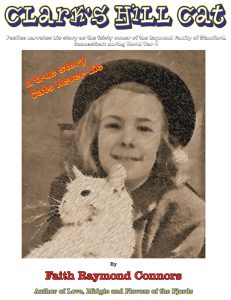 Pee Wee, The Clark's Hill Cat is a cat's tale, as told by himself to Connors. Actually, the story was the outcome of Connors' discovery as a young girl that she knew what her cat was thinking. The result is a gripping tale of cat life in the Raymond household in Stamford, Connecticut during World War II. From blackouts and Victory Gardens, to a Sailor "borrowing" the family car, Pee Wee shares his unique experiences and outlook.
As Pee Wee helpfully explains:
Why do you want to read a book by me?  Because I am a cat!
And, who can tell my story…better than me?
Welcome to my town and my neighborhood, if you can find it.
You may see two girls, age ten, playing in my yard. Lucy is easy to recognize: she has brown eyes and straight brown hair that she wears in a Dutch cut. Her friend, Patty, has curly blond hair and freckles on her nose and cheeks.
Anyway, when you reach Clark's Hill, start walking down it, but stay to the right. Be watchful because there are two houses that look exactly alike. #19 has German nationals living in it. Lucy and Patty fret about the neighbors who come and go at odd times and behave in strange ways. The girls think the Gompersteins are spies.
Instead of swinging from the monkey bars or turning cartwheels in the backyard, Lucy and Patty spend a lot of time spying on the neighbors. I think it's their hobby. Not my problem. Maybe the Gompersteins are spies. Maybe they aren't. The Gompersteins, to a cat's way of thinking, do something far worse than that: they harbor an annoying cat named Fredda. Keep walking past #19. Ignore the cat.
Number 23 is the next house. It belongs to me. I'm easy to find, especially if I've been in some kind of trouble – which is usually the case. First, take a peek under the hydrangea bushes beneath the hall window beside the driveway. I may be hiding under the leaves in a cool shady spot.  If I am in the house, you'll need to go directly upstairs. Stop at the top. Check the linen closet. Behind a pile of neatly folded towels is where you may find me. My amber eyes will look at you.  You can't miss me. I am big, covered in a coat of yellow and white striped fur. Yes, I am a domestic short hair cat of many talents. I have tales to tell. I invite you to read my story.
If I am innocent of any recent trouble, I will be a little harder for you to find. Climbing is one of my talents. I climb the six foot high honeysuckle wall in my backyard.  I also climb onto the roof outside the dining room window. Jumping is another one of my talents. I leap into the boat that's sitting on the trailer in the back driveway. My nosing around takes me a lot of places I probably should not go. I nose through every inch of the Victory Garden, an easy jump from the side porch, to where rows of corn, beans and tomatoes grow. There's more. This is only the beginning.

Table of Contents
© Copyright 2018 BelleAire Press, LLC