"Slowing the spread," through on-going covid quarantines and social distancing are leading to "insteads," at least to author Faith Raymond Connors–many up close and personal, hands-on activities and relationships have changed.  In this first "Instead," FRC shares a hyperbolic letter from "Jenny," the now some-time, maybe cleaning lady.
Due to the Stay at Home rule, Jenny cannot come every other Thursday to clean. However, Mrs. Johnson continues to pay the cleaning woman, Jenny, who is staying home.
Jenny now seems to be almost in charge of cleaning the Johnson house in a new way. Mrs. Johnson received the following letter from Jenny:
Dear Mrs. J.,
Today's Thursday, the day I steam clean your kitchen floor, so here's what I want you to do. Get that big blue bucket on wheels from the garage and tow it to the laundry room. Run the water in the sink until it's really hot and fill the bucket about halfway to the top. Add a squirt of liquid soap and some bleach. You can figure out how much.
Get your gloves, I mean those yellow rubber gloves I always wear when I steam clean your kitchen floor.
Be careful sloshing the hot water around, don't pour too much on the floor. Don't slip. I hope you're wearing your sneakers.
Now you're ready to plug in the steamer machine and hit that tile floor with the steamy mixture.
Rinsing is easy. Dump out the big blue bucket in the laundry room sink. Fill it with cold water and use the sponge mop to finish up the floor.
That's all for today. I'll tell you what to do tomorrow.
Maybe it's odd for me to be telling you what to do, but when this virus thing is over I don't want to come back to your house and find it's a Big Mess.
If you have any questions, give me a holler.
You know my number.
Jenny
PS & BTW…
You'll need go on the glassed in side porch armed against spiders. Big things. Some of them live in the ceiling fan. I always feel like they're coming for me. Just so you know. Get the broom and sweep those jumping spiders straight out into the garden where they belong.
About: the 'fridge:
When I return some Thursday, sooner rather than later: No more jars of pickles, please. That refrigerator is packed. Cleaning it is tough enough but made worse because of all those jars of pickles the bottoms of which seem to be glued to the shelves inside the door.
In my opinion, there's way too many jars of pickles in there. You and the mister don't need all that extra salt, anyway. I'd like those jars of pickles gone from the 'fridge, taking up shelf space, making it too hard to clean properly.
Between knowing what's in your fridge and pantry, I do wonder what you people are eating over there.
Did I ever mention that you have seventeen boxes of aluminum foil? If not, sorry about that. I moved all but one of them from the upper cabinet left of the stove to a lower shelf in the back of the pantry.
You can dock my pay about the chip in the covered casserole dish. When I dusted in the dining room, I pushed the dish aside and it got chipped. So I turned it around. You won't see the chip unless you move the ugly thing. I think it's ugly, but maybe it isn't. One time, Mama told me my taste was all in my mouth.
In a way, Mama may know best, after all. Getting paid to stay home has offered me a chance to go shopping for special ingredients. Now I can buy all the things I need to bake my Granny's Cookies. Never had a chance to make all of her recipes so that's what I'm doing with the money you paid me and the time I now have on my hands.
Sent from my iPhone
---
© Copyright 2020 BelleAire Press
Love, Midgie is now a digital book…only a click away.
New: A free 2018 on-line Reader's Guide prepared by author Faith Connors for home schooling educators.
Home schooling parents and adults reading to young people will find the new Love, Midgie Reader's Guide an important and useful resource. The new, free download was prepared by author and reading educator Faith Connors to make the LM reading experience more fun and meaningful.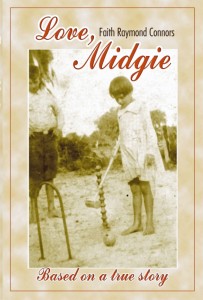 "Midgie is a refreshing, true story of a young Florida girl with indomitable spirit who meets each challenge as a new adventure. From the first page the reader is caught up in Midgie's world–a combination of family and friends, as well as a haunted house. The author captures her unshakable spirit–'Midgie's magic'–as she moves from one adventure to another. Her postcards in each chapter help the reader visualize the fascinating story of a bright, energetic, young girl. The reader will laugh and cry with this remarkable, young girl and her brother, Henry. The book is a 'winner."'
Dr. Frances Bartlett Kinne
Chancellor Emeritus
Jacksonville University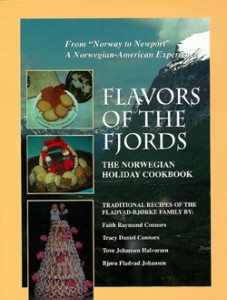 History has never tasted so good! ™
"The book may be the most detailed history of a Norwegian-American family yet published. Flavors of the Fjords exemplifies what dedicated compilers and relatives can do to preserve knowledge of their family's complex past. This one family's legacy should inspire others as well."
– Royal Norwegian Embassy
Revised, updated, expanded digital edition available July 2018.
Flavors of the Fjords has the largest number of traditional Norwegian holiday recipes–cakes, cookies, breads–ever put together in one book! Interwoven with fascinating bits of Norwegian social history, including explanations of Norwegian Holiday traditions and customs, many of them kept alive to this day by millions of Norwegian-American families.
Authentic Fladvad and Bjørke family recipes for over 125 holiday cookies, cakes, breads, toppings, and puddings are interwoven with fascinating bits of Norwegian and Newport, Rhode Island social history. These authentic Norwegian recipes reflect the holiday cooking, uniquely Norwegian, brought to America by nearly one million Norwegian immigrants.
---
Just off the download…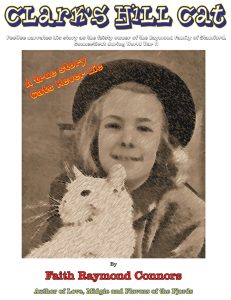 The BelleAire Press "Cat-itorial Review Board" recently granted its CRB Seal of Excellence to a new work of feline historic fiction by Faith R. Connors, author of Flavors of the Fjords and Love, Midgie.
Pee Wee, The Clark's Hill Cat is a cat's tale, as told by himself to Connors. Actually, the story was the outcome of Connor's discovery as a young girl that she knew what her cat was thinking. The result is a gripping tale of cat life in the Raymond household in Stamford, Connecticut during World War Two. From blackouts and Victory Gardens, to Sailors "borrowing" the family car, Pee Wee shares his unique experiences and outlook.
"Why do you want to read a book by me?" Pee Wee asks. "Is it because I am a cat?"
We believe you will agree with the BP CRB that Pee Wee's tale is not too long, not too short, but just right.
---
Most Recent Postings…