Rhode53Island: Summer 1953 on Conanicut Island
$0.99
Rhode53Island: the memorable summer of 1953 on Conanicut Island.
A charming memoir by author Faith Connors of the memorable summer of 1953 spent on picturesque Conanicut (Jamestown) Island in Narragansett Bay, Rhode Island.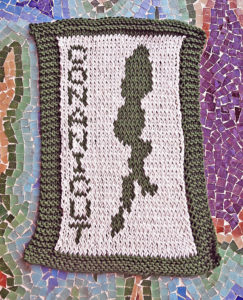 Includes Connors' Conanicut Brag Rag© knitting design saluting that historic and lovely Rhode Island community and nexus for Narragansett Bay.
The "Rhode Island" series of Spirit Knits by BelleAire Press honors Marie Fladvad Cottrell, a Norwegian immigrant who married into a Newport merchantile family in 1895, who taught her daughters and granddaughter to knit as her Mor in Norway had taught her, even as she launched a Newport business enterprise and became a Suffragette.
Marie and her family vacationed on Conanicut/Jamestown for many years from the late Twenties. Her husband, Charles Cottrell, died there in 1923.
Marie's fascinating story is now available as an ePublication, Flavors of the Fjords.
Description
"In answering Andrew's question about my favorite childhood summer, I rediscovered the importance of Conanicut Island, Jamestown, Rhode Island for my Newport family, and for me, especially during the summer of 1953.
Come and be whisked back in time to the summer of 1953 to a place called Jamestown, Rhode Island on an island in Narragansett Bay."
(Excerpt)
I grew up in Stamford, Connecticut in the 1940's and '50's. My neighborhood friends and I escaped our backyards and the hot summertime heat by walking to the beach, several miles away. There were a few times we were unable to swim in Long Island Sound: during the polio epidemic and after heavy rains when the Sound was polluted. At those times, we were confined to the backyard or the side porch. During the polio scare, we were not even allowed to go to the movies.
My reason for writing about a summer vacation was in answer to Andrew's question about my favorite summer and has expanded into a memoir of sorts revolving around Jamestown, Rhode Island. My interest in writing about Jamestown is partly due to nostalgia and partly a wish to return to a bygone era of a time when my family's vacations centered on an island in Narragansett Bay. That was our family vacation place over the decades, beginning perhaps even before 1911 when my grandparents, Charles and Marie Cottrell, rented one of the "Three Sisters" for the entire month of September. So "Rhode 53 Island" has morphed into something of a time capsule – from 1911 to 2016 and our most recent visit to Jamestown.
Mementoes of Jamestown through the years are mainly black and white snapshots taken at East Shore Road cottages during the 1930s, eighty or more years ago. The old time photos reveal days spent relaxing on the grass in front of the cottages, sitting on the rocky slate in the water, as well as more action oriented endeavors such as fishing, clamming, boating and swimming.
A few postcards survive, as well. The only actual objects that are in the family include an Indian pestle (now in Andrew's possession) that my brother, Billy, found while hiking around Jamestown and one silver plated spoon much coveted by siblings and cousins at breakfast, lunch and dinner. Because there was only one such spoon, festooned with a rose at the handle, it became known as "The Rose Spoon" and caused many a squabble among the children as to who would get to eat with it next.