Coaster No 1
$0.00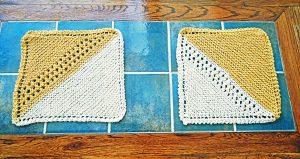 A coaster is a small mat that can be placed under a bottle or glass to protect the surface underneath. Originally, in the late 19th century, a coaster was a small round tray on which a decanter could be placed to protect the table's beautiful finish. Because the tray was so small, it could be "coasted" around the perimeter of the table so that each guest could help themselves in turn to their favorite after dinner drinks.
Coaster Number 1 was designed by Faith Connors to serve as a decorative showcase for your knitting skills, or if you choose to use it for its original purpose, to protect your tables and other services from whatever is in on your glasses.
Her easy-to-follow directions offer you the option of knitting the design as a mirror image to serve as a complementary pair. Of course, the color choices enable you to accommodate the design to complement whatever color environment you may choose.
All Spirit Knit designs and patterns:
Are easy to knit.
Include complete knitting directions–two-color or one color–provided.
Offer yarn and materials suggestions.
Provide optional color swatches.
Provide color-coded knitting chart.
Include hyperlinks to additional resources.
Arrive as downloadable e-PDFs for convenience in viewing and/or printing hard copy.
Your ePDF is scaled to optimize viewing of contents (especially the design chart) on iPADs and similar display devices.