"Without exception, SAIPAN is the most versatile instrument of peace or war on the seas today."
-CAPT John "Jack" W. Renard, Commanding Officer (1982)-
SAIPAN's mission was to embark, deploy and land elements of a Marine landing force in an assault by helicopters, landing craft, amphibious vehicles or by a combination of all these methods.
The General Purpose Amphibious Assault Ship, the LHA, could operate independently or in conjunction with a large force conducting air and sur-face amphibious operations.
SAIPAN was designed to maintain what the Marine Corps termed "tactical integrity" …. getting a balanced force to the same point at the same time. SAIPAN could carry a complete Marine Battalion Land¬ing Team, along with the supplies and equipment needed in an assault, and land them ashore by either helicopter and/or small amphibious craft. This two-pronged capability, with emphasis on vertical launch and landing of troops and equipment, aided the Navy/Marine Corps team in carrying out its amphibious mission.
A secondary mission of SAIPAN was evacuation and disaster relief. Hundreds of tons of medical supplies and food stuffs could be carried in the cargo holds of the LHA and be delivered to disaster victims within minutes of SAIPAN's arrival on the scene.
Fresh water and electricity could be provided from the ship's engineering plant until domestic services are restored.
SAIPAN's medical facilities could hospitalize up to 300 patients and provide out-patient treatment for hundreds of additional sick or injured daily. Two thousand evacuees could be brought aboard by helo or landing craft and comfortably transported to safe areas.
Saipan CO, CAPT Jack Renard, was not exaggerating when he noted that "without exception, SAIPAN is the most versatile instrument of peace or war on the seas today."
Next Page: USS Saipan Capabilities: ship of superlatives
© Copyright 2017 BelleAire Press, LLC
---
Works by Dr. Connors
Log Entries, are as varied as the person reliving them–interesting, exciting, provocative, stimulating, appealing, heartwarming, lively and entertaining–worth telling to a larger audience, sharing with others some unforgettable experiences and preserving precious memories for future generations.
Truckbusters From Dogpatch: the Combat Diary of the 18th Fighter-Bomber Wing during the Korean War, 1950-1953. The incredible story of the men—pilots, ground crew and supporting elements—whose achievements and records during that bloody conflict not only made U.S. Air Force history, but helped the newly fledged military service gain the confidence and respect it now enjoys.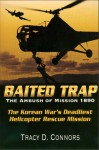 Baited Trap: the Ambush of Mission 1890. After more than fifty years, we know the riveting story — "…a story that has not been told, but should have been" (Graybeard Magazine) — of the Korean War's most heroic–and costly, helicopter rescue mission. It took declassification of official records, extensive research, tracking down the scattered families of brave airmen, and use of the Freedom of Information Act, to piece together the story of what five incredibly determined Air Force and Navy pilots did that long June afternoon in the infamous "Iron Triangle."