LHA ENGINEERING FACILITIES
The Engineering Departments on the Navy's five 40,OOO-ton complex amphibious assault ships (LHAs) had all the engineering machinery and electronic equipment used by a city–and a little bit more.
Operating with the largest 'boilers on any Navy ship, LHAs had Engi­neering Departments which were divided into five divisions, including: A (Auxiliaries) Division; AS (Assault) Division; E (Electrical) Division; MP (Main Propulsion) Division; and R (Repair) Division.
The A Division dealt with air conditioning (800 tons of air condition­ing capacity on each LHA ship), refrigeration, three sewer treatment plants, laundry, galley (food preparation) equipment, 15 air compressors, and the ships' ballasting system.
The AS Division was responsible for the ship's stern gate, the monorail (for cargo handling in the well deck), all cargo elevators, all ramps in the well deck, and elevators, including medical elevators (to transport casualties from the flight deck to the medical treatment areas of the ship).
The E Division had responsibility for four large steam-driven genera­tors (of 2,400 kilowatts each), electrical power throughout the ship, elec­tronics equipment, nearly 700 telephones, closed circuit television, and all electrical motors.
The MP Division was in charge of the two main engines, each having 35,000 shaft horsepower and all machinery associated with them, the ship's two huge boilers, two water distilling plants (also called "evaporators"), and all steam turbines.
The two main engines required 12 hours after the ship is berthed at the pier to cool down, a process which was controlled and watched closely so they didn't cool down too fast and be damaged in the process. Addition­ally, before the ship left port, the boilers and most machinery were started and warmed up about eight hours prior to departure (called "light off").
The R Division handled all welding on the ship, all toilet equipment and fixtures, and damage control operations should fire break out or other mechanical emergency occur at sea.
The Engineering Department covered a wide spectrum of the ship's opera­tion, and as one member of the department aboard SAIPAN put it, Engineering personnel "are the first ones on the ship as it prepares to get underway, and the last ones off when the ship ties up in port."
Next Page: Saipan LOVES New York, Harbor Fest 1982
© Copyright 2017 BelleAire Press, LLC
---
Works by Dr. Connors
Log Entries, are as varied as the person reliving them–interesting, exciting, provocative, stimulating, appealing, heartwarming, lively and entertaining–worth telling to a larger audience, sharing with others some unforgettable experiences and preserving precious memories for future generations.
Truckbusters From Dogpatch: the Combat Diary of the 18th Fighter-Bomber Wing during the Korean War, 1950-1953. The incredible story of the men—pilots, ground crew and supporting elements—whose achievements and records during that bloody conflict not only made U.S. Air Force history, but helped the newly fledged military service gain the confidence and respect it now enjoys.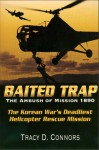 Baited Trap: the Ambush of Mission 1890. After more than fifty years, we know the riveting story — "…a story that has not been told, but should have been" (Graybeard Magazine) — of the Korean War's most heroic–and costly, helicopter rescue mission. It took declassification of official records, extensive research, tracking down the scattered families of brave airmen, and use of the Freedom of Information Act, to piece together the story of what five incredibly determined Air Force and Navy pilots did that long June afternoon in the infamous "Iron Triangle."