USS Saipan Capabilities
LHA: SHIP OF SUPERLATIVES
SAIPAN's mission was to embark, deploy and land elements of a Marine landing force in an assault by helicopters, landing craft, amphibious ve­hicles or by a combination of all these methods; the General Purpose Amphibious Assault Ship, the LHA.
The LHA was a ship of superlatives. Almost three football fields long, LHA's are (two are in reserve) as large as the ESSEX-Class carriers. She could move from her homeport of Norfolk, VA to almost any spot in the world carrying a batta­lion of nearly 2,000 combat-ready marines, assault and cargo helicopters, combat assault boats and all associated equipment and supplies.
Her main steam turbine engines generated 70,000 hp. and contained the largest boilers of any ship afloat. To assist in maneuvering, LHA's like SAIPAN carried a "bow thruster" powered by a 900-hp diesel engine.
During amphibious operations. the ship could simultaneously send heli­copters loaded with troops and supplies from its flight deck, and launch landing craft from the well deck that opened to the sea from the stern. She could carry as many as 12 tanks and 8 Harrier ("jump jet") Vertical Takeoff and Landing jet fighters to support its troops.
For her crew of 60 officers and 837 men, augmented on amphibious oper­ations by 172 Marine Corps Officers and 1,730 Marines, the LHA was virtually self-sufficient. A "floating city," she had a fully equipped hospital on board with four operating rooms, a 20-bed intensive care ward, plus a regular care ward with an overflow capacity for 300 patients. The dental depart­ment was equipped with two modern oral surgery rooms. These medial facili­ties were among the most advanced seen on any Navy ship in the world.
SAIPAN's galleys were equipped to prepare more than 6,000 meals daily, enough to feed her entire crew around the clock. To entertain, inform and train the crew, her on-board closed-circuit television system could accommodate feature-length movies, newscasts, direct communication by the ship's captain to the crew, and it could create and produce its own train­ing films.
SAIPAN and its four sister ships of the TARAWA-Class LHA's were the most heavily armed of any landing ship afloat. Each carried two Sparrow anti-aircraft missile mounts containing 8 missiles each, six 20mm gun mounts and three 5″ 54-caliber guns. These three guns made the LHA the most heav­ily "gunned" ship in the Navy at the time.
Next Page: LHA Amphibious Mission
© Copyright 2017 BelleAire Press, LLC
---
Works by Dr. Connors
Log Entries, are as varied as the person reliving them–interesting, exciting, provocative, stimulating, appealing, heartwarming, lively and entertaining–worth telling to a larger audience, sharing with others some unforgettable experiences and preserving precious memories for future generations.
Truckbusters From Dogpatch: the Combat Diary of the 18th Fighter-Bomber Wing during the Korean War, 1950-1953. The incredible story of the men—pilots, ground crew and supporting elements—whose achievements and records during that bloody conflict not only made U.S. Air Force history, but helped the newly fledged military service gain the confidence and respect it now enjoys.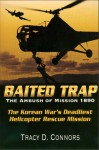 Baited Trap: the Ambush of Mission 1890. After more than fifty years, we know the riveting story — "…a story that has not been told, but should have been" (Graybeard Magazine) — of the Korean War's most heroic–and costly, helicopter rescue mission. It took declassification of official records, extensive research, tracking down the scattered families of brave airmen, and use of the Freedom of Information Act, to piece together the story of what five incredibly determined Air Force and Navy pilots did that long June afternoon in the infamous "Iron Triangle."