LHA COMBAT SYSTEMS
Combat systems aboard the Navy's five 40,000 ton Amphibious Assault Ships were designed to carry out an offensive as well as a defensive role. Weapons aboard ranged from the ultra sophisticated ship-to-alr Sparrow missile, to the basic U. S. Government issue .45 cal. automatic pistol.
Surprisingly, the LHA was also the most "heavily gunned" ship In the Navy today at that time.  Suprlslng, because at first glance the casual observer did oes not notice the three five-inch 54 caliber guns. These were located in wells, two forward and one aft. Each gun fired a high explosive projectile weighing 75 pounds, which could travel up to 12 nautical miles, at a rate of fire of twenty rounds per minute. These guns served as the ship's main anti-surface ship weapon, and also acted as gunfire support during landing operations.
The LHA carried two missile launchers which were mounted forward and aft of the ship's Island superstructure. Each mount contained eight Sparrow anti-aircraft missiles, which, traveling at about twice the speed of sound, could knock down most aircraft within range.
LHA's also carried six 20-mm gun mounts which functioned as anti-boat/anti­personnel weapons and are used strictly for close-in defense of the ship.
Combat systems were controlled by the ship's Combat Information Center (CIC), from which the ship was actually fought. There, in the "brains" of the weapons system, information, communication, and fire control all came together In the form of the Naval Tactical Data System (NTDS). The NTDS providee the system weapon's information control (SWIC) officer with visual read outs of surface and air radar scanning. The SWIC could then determine which of his weapons to direct against opposing forces. Once he choose the appropriate weapons or weapons, they were directed to lock on target through computer control, which took Into account not only the motion of the target, but calculated the ship's motion In the equation.
The ultimate result of all this technology was a much faster and more accurate response to opposing forces than had ever been possible. Because the LHA was designed to travel in company with the carrier battle group, its NTDS could communicate with the NTDS on other ships In the group, thus substantially enlarging her circle of protection and response. LHAs also had the capability to intercept and interrupt hostile communications, thus confusing the enemy.
Despite the advanced technology in CIC, it might become necessary to use more basic force in dealing with riots, hostile boats, and boarding of suspicious craft. To this end, LHAs carried a self-defense force of 35 officers and men who were armed with M-60 light machine guns, M-16 rifles. riot shotguns, M-14 rifles, and 45 cal. pistols. These arms were employed by the drill team under the gunnery officers, so frequent shooting practice could be heard aboard LHAs.
SAIPAN's motto "We Do It All," surely applied to the range and versa­tility of her armament, as well as the full range of her many other capa­bilities.
Next Page: LHA Medical Facilities
© Copyright 2017 BelleAire Press, LLC
---
Works by Dr. Connors
Log Entries, are as varied as the person reliving them–interesting, exciting, provocative, stimulating, appealing, heartwarming, lively and entertaining–worth telling to a larger audience, sharing with others some unforgettable experiences and preserving precious memories for future generations.
Truckbusters From Dogpatch: the Combat Diary of the 18th Fighter-Bomber Wing during the Korean War, 1950-1953. The incredible story of the men—pilots, ground crew and supporting elements—whose achievements and records during that bloody conflict not only made U.S. Air Force history, but helped the newly fledged military service gain the confidence and respect it now enjoys.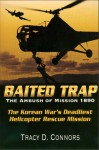 Baited Trap: the Ambush of Mission 1890. After more than fifty years, we know the riveting story — "…a story that has not been told, but should have been" (Graybeard Magazine) — of the Korean War's most heroic–and costly, helicopter rescue mission. It took declassification of official records, extensive research, tracking down the scattered families of brave airmen, and use of the Freedom of Information Act, to piece together the story of what five incredibly determined Air Force and Navy pilots did that long June afternoon in the infamous "Iron Triangle."