Newport Old Stone Mill
$3.99
Newport's Old Stone Mill" Brag Rag© design salutes that historic and lively Rhode Island seaport, and its oldest landmark.
The "Rhode Island" series of Spirit Knits by BelleAire Press honors Marie Fladvad Cottrell, a Norwegian immigrant who married into a Newport merchantile family, who taught her daughters and granddaughter to knit as her Mor in Norway had taughter her, even as she lauched a Newport usiness enterprise and became a Suffragette.
Marie's fascinating story is now available as an ePublication, Flavors of the Fjords.
Body of the "Old Stone Mill"© is approximately 8 inches wide by 9 inches long. The letters are knitted in a panel of stockinette stitch.  Knit with 100% Cotton yarn (114 yards/ 60 grams), Worsted Weight Cotton Yarn.
All Spirit Knit designs and patterns:
Are easy to knit.
Include complete knitting directions–two-color or one color–provided.
Offer yarn and materials suggestions.
Provide optional color swatches.
Provide color-coded knitting chart.
Include hyperlinks to additional resources.
Arrive as downloadable e-PDFs for convenience in viewing and/or printing hard copy.
Your ePDF is scaled to optimize viewing of contents (especially the design chart) on iPADs and similar display devices.
Description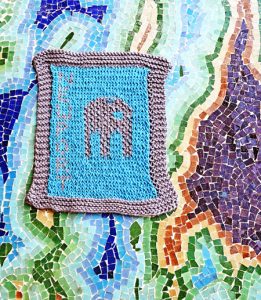 One of Newport, Rhode Island's most iconic landmarks is the Old Stone Mill, a round two-story tower located at the west end of Truro Park near the intersection of Bellevue Avenue and Mill Street. As the small harbor port of Newport began to grow up the hill from the harbor, Judah Truro donated $10,000 in 1854 to the city of Newport to buy the land as a park that saved the tower and insured it would not be developed into homesites.
At ground level, eight round columns are connected by eight round arches. Inside remain beam-holes for at least two more floors, for windows, and a fireplace. Nothing remains of the towers former wooden materials.
Based on archaeological research conducted by the Chronognostic Research Foundation, the Old Stone Mill tower was built between 1125-1457, and "was placed at its present location for one reason: to measure the Solstices and the Equinoxes."