Dorian Spirit Knit
$0.00
DORIAN Background
Beach Spirit Knits© by BelleAire Press include original knit designs that help you have a beach experience without actually leaving your home. Mostly that experience is balmy breezes and rippling surf. But sometimes that experience can be awesome.
A massive hurricane reminds us of Nature's awesome power. It also brings us to together as we prepare to face its destructive force, and to help those who suffer losses.
This original Beach Spirit Knit design showcases your skills and memorializes the time you waited out this destructive storm in September 2019, sending thoughts and prayers to those facing its fury.
Dorian is provided as a free download by BelleAire Press to commemorate this event and to honor our first responders who worked so hard to keep us safe.
Description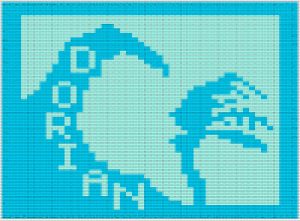 Body of the "DORIAN"© is approximately 8 inches wide by 9 inches long. The letters are knitted in a panel of stockinette stitch.  Knit with 100% Cotton yarn (114 yards/ 60 grams), Worsted Weight Cotton Yarn.
All Spirit Knit designs and patterns:
Are easy to knit.
Include complete knitting directions–two-color or one color–provided.
Offer yarn and materials suggestions.
Provide optional color swatches.
Provide color-coded knitting chart.
Include hyperlinks to additional resources.
Arrive as downloadable e-PDFs for convenience in viewing and/or printing hard copy.
Your ePDF is scaled to optimize viewing of contents (especially the design chart) on iPADs and similar display devices.